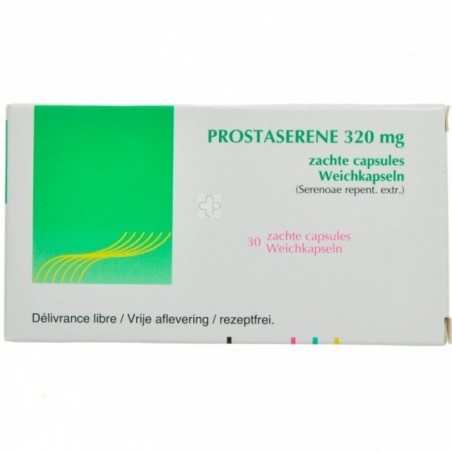  
Prostaserene 320 Mg Capsules
Belgique: Livré chez vous demain !
Indications thérapeutiques:

Traitement symptomatique des troubles de la miction dus à une hyperplasie prostatique bénigne.

Posologie et mode d'administration:

La posologie journalière est de 1 capsule de Prostasérène 320 mg le matin.
La durée du traitement sera fixée par le médecin en fonction de l'évolution des troubles mictionnels et sera réévaluée régulièrement.
Mode d'administration.
Les capsules seront avalées avec un peu d'eau, de préférence après le repas.

Contre-indications:

Hypersensibilité à l'extrait de serenoa repens ou à un des excipients. Femmes et enfants.

Effets indésirables:

Rarement: pyrosis et gastralgies d'intensité légère survenant lorsque la prise de Prostasérène précède les repas.

Mise en garde et précautions particulières d'emploi:

La prise à jeun de Prostasérène 320 mg pouvant occasionnellement produire des troubles gastriques tels que pyrosis et gastralgies, il est conseillé de prendre le médicament après les repas. La prudence est conseillée chez les patients ayant des antécédents de troubles gastriques. Avant d'instaurer un traitement avec Prostasérène 320 mg, il est nécessaire que soit évalué le caractère bénin ou malin de la pathologie. L'hypertrophie prostatique nécessite un contrôle médical régulier. Prostasérène 320 mg contient des parabens (agents conservateurs) qui peuvent provoquer des réactions allergiques. Grossesse et allaitement: prostasérène 320 mg n'est pas destiné à la femme. Effets sur l'aptitude à conduire des véhicules et à utiliser des machines: prostasérène 320 mg n'a pas d'influence sur la conduite d'un véhicule ni sur l'utilisation de machines. Surdosage: Aucun cas de surdosage n'a été rapporté à ce jour. En cas de surdosage, un traitement symptomatique s'impose.

Interactions avec d'autres médicaments et autres formes d'interactions:

Jusqu'à ce jour, Prostasérène 320 mg n'a pas montré d'interactions médicamenteuses.

Composition:
La substance active est l'extrait lipophilique de Serenoa repens préparé à partir des fruits et obtenu dans des conditions hypercritiques avec le dioxyde de carbone comme solvant. L'extrait est présent à raison de 320 mg par capsule, correspondant à 12,8 g de fruit du palmier.

Liste des excipients:

Glycérol — Ethylparahydroxybenzoate —Propylparahydroxybenzoate — Hydroxyde de sodium — Hydroxyde de sodium — Dioxyde de titane (E171) — Complexe cuivrique de chlorophylle (E141) — Gélatine.
The advice of your pharmacist:
The product Prostaserene 320 Mg Capsules is made (and / or distributed) with the highest quality standards by the company THERABEL PHARMA. On its Web site, with its experience in selling quality products, Pharmonet presents all the products of this brand available on the market.
However, if the product Prostaserene 320 Mg Capsules is not conform to your expectations for any reason whatsoever, do not hesitate to inform us and we will forward your comments directly to the company THERABEL PHARMA.
1 other product in the same category: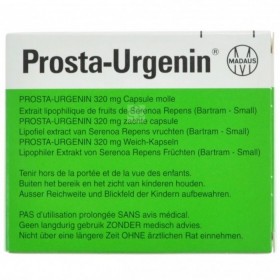 ---
No customer reviews for the moment.