 
Indications thérapeutiques:

Contraception d'urgence dans un délai de 72H après un rapport sexuel non protégé ou en cas d'échec d'une méthode contraceptive.


Posologie et mode d'administration:

Le traitement nécessite la prise de 1Co.

Le comprimé doit être pris le plus tôt possible après le rapport sexuel non protégé, préférablement dans les 12H, et au plus tard dans les 72H (3j) après le rapport.

Norlevo peut être pris à n'importe quelle période du cycle.

Si des vomissements surviennent dans les 3H qui suivent la prise du comprimé, 1Co supplémentaire doit être pris immédiatement.

Après utilisation de la contraception d'urgence, il est recommandé d'utiliser un moyen contraceptif local (préservatif, spermicide, cape cervicale) jusqu'au retour des règles suivantes.

L'utilisation de Norlevo n'empêche pas la continuité de la contraception hormonale habituelle.


Contre-indications:

Hypersensibilité connue à la substance active le lévonorgestrel ou à un des excipients.


Mises en garde spéciales et précautions particulières d'emploi:

La contraception d'urgence est une méthode occasionnelle, elle ne doit en aucun cas se substituer à une contraception régulière.
En cas de grossesse après la prise de Norlevo 1,5 mg, la possibilité d'une grossesse ectopique devra être envisagée.

Il n'est pas recommandé chez les femmes présentant un risque de grossesse ectopique.

Il n'est pas recommandé chez les patientes qui présentent une sévère dysfonction hépatique.

Des syndromes sévères de malabsorption, comme la maladie de Crohn, peuvent diminuer son efficacité.
L'utilisation de la contraception d'urgence ne dispense pas des précautions à prendre contre les maladies sexuellement transmissibles.

Les patientes souffrant de problèmes héréditaires rares d'intolérance au galactose, de malabsorption glucose-galactose, ou une déficience en Lapp lactase, ne doivent pas prendre ce médicament.

Ce médicament n'est pas indiqué en cas de grossesse préexistante et ne peut pas l'interrompre.

Il est suggéré d'allaiter immédiatement avant la prise du comprimé de Norlevo 1,5 mg et de suspendre l'allaitement pendant au moins 6H après l'administration de Norlevo 1,5 mg.

En cas de surdosage, le traitement doit être symptomatique.


Interactions avec d'autres médicaments et autres formes d'interaction:

Anticonvulsivants (phénobarbital, phénytoïne, primidone, carbamazépine), rifabutine, rifampicine, griséofulvine, ritonavir, Hypericum perforatum (Millepertuis).


Effets indésirables:
Effets indésirables chez la femme après administration de 2 comprimés en une seule prise:

Nausées.

Douleurs abdominales basses.

Fatigue.

Mal de tête.

Tension mammaire.

Vomissements.

Menstruations importantes.

Diarrhée.

Saignement.

Retard des menstruations.

Composition:
Chaque comprimé contient 1,5 mg de lévonorgestrel.
Excipients : Lactose monohydraté
Amidon de maïs
Povidone
Silice colloïdale anhydre
Stéarate de magnésium.
The advice of your pharmacist:
The product Norlevo 1 Comp is made (and / or distributed) with the highest quality standards by the company BESINS. On its Web site, with its experience in selling quality products, Pharmonet presents all the products of this brand available on the market.
However, if the product Norlevo 1 Comp is not conform to your expectations for any reason whatsoever, do not hesitate to inform us and we will forward your comments directly to the company BESINS.
2 other products in the same category: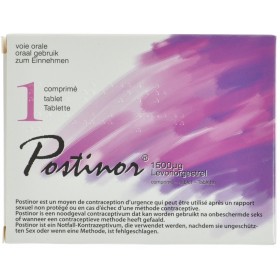 ---
Customers who bought this product also bought:
---
No customer reviews for the moment.