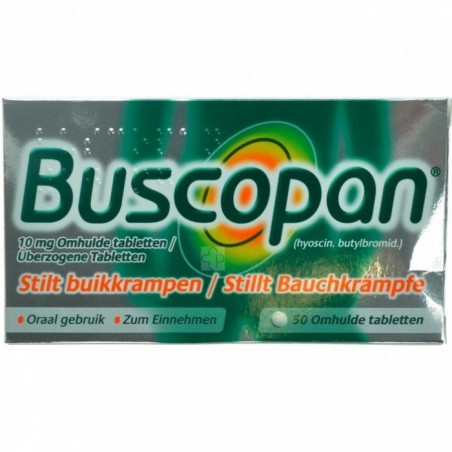  
Buscopan 10 Mg Comprimés Enrobés
Indications thérapeutiques:

Traitement symptomatique des spasmes des voies digestives, biliaires, urinaires et génitales.


Posologie et mode d'emploi:

Enfants > 6 ans et adultes:
1 à 2 cp, 3 à 5X/j. à avaler avec un peu de liquide.

Enfants < 6 ans:
1 mg/kg/24 h.
Dose max:
100 mg/24 h chez les adultes et adolescents, et 1,5 mg/kilo de poids corporel/24 h chez les enfants.

Ne pas administrer au-delà de 7 jours sans avis médical.
L'usage de longue durée est contre-indiqué.

Il n'y a pas de schéma posologique particulier à l'insuffisance rénale.


Contre-indications:

L'adénome prostatique, l'hypertrophie prostatique avec rétention urinaire, le glaucome à angle fermé non traité, la sténose pyloro-bulbaire, l'atonie intestinale, la tachycardie, l'obstruction gastro-intestinale mécanique, la myasthénie sévère, le mégacôlon et l'hypersensibilité à la N-butylhyoscine ou à l'un des composants.
Enfants < 1 an.


Effets indésirables:

Sécheresse de la bouche (xérostomie), inhibition de la sécrétion sudorale (dyshidrose), troubles de l'accommodation visuelle, l'arythmie, vertiges, ralentissement du transit intestinal et la rétention urinaire, réactions d'hypersensibilité, chute de tension, réactions anaphylactoïdes.


Mise en garde et précautions particulières d'emploi:

Limiter le traitement dans le temps et en fonction des symptômes.

Consulter le médecin en cas de:
Température associée aux douleurs abdominales, troubles urinaires.
Prudence chez les patients souffrant de tachyarythmie.
Ne pas administrer le Buscopan en cas de reflux gastro-oesophagien.
Chez les enfants < 6 ans, il est préférable de consulter un médecin.
Prudence chez les personnes âgées.
Si après l'administration de Buscopan, on constate une douleur oculaire, on consultera un ophtalmologue.
L'injection I.V. doit être lente.

Éviter son usage pendant la grossesse et spécialement au cours du premier trimestre.
La sécurité d'emploi pendant la période de lactation n'a pas été établie.
Tenir compte d'un trouble éventuel de l'accommodation visuelle.

En cas d'intoxication par voie orale:
Lavage gastrique avec du charbon activé suivi d'une solution à 15 % de sulfate de magnésium, puis traitement symptomatique et des complications.


Interactions avec d'autres médicaments et autres formes d'interactions:

Les antidépresseurs tricycliques et les antihistaminiques, la quinidine, l'amantadine et le disopyramide, antagonistes dopaminergiques (métoclopramide, cisapride, alizapride et dompéridone), bètamimétiques.

Composition:
Un comprimé enrobé contient 10 mg de bromure de butylhyoscine.
Hydrogénophosphate de calcium anhydre — Amidon de maïs — Amidon soluble — Silice colloïdale anhydre — Acide tartrique — Acide stéarique — Povidone — Saccharine — Talc — Gomme arabique — Dioxyde de titane — Macrogol — Cire de carnauba — Cire d'abeille blanche.
The advice of your pharmacist:
The product Buscopan 10 Mg Comprimés Enrobés is made (and / or distributed) with the highest quality standards by the company Boehringer Ingelheim. On its Web site, with its experience in selling quality products, Pharmonet presents all the products of this brand available on the market.
However, if the product Buscopan 10 Mg Comprimés Enrobés is not conform to your expectations for any reason whatsoever, do not hesitate to inform us and we will forward your comments directly to the company Boehringer Ingelheim.
2 other products in the same category: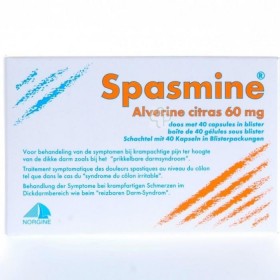 ---
Customers who bought this product also bought:
---
No customer reviews for the moment.